ENERCAL PLUS VANILLA 900G
FOOD SUPPLEMENT --- NUTRITIONAL FOODS and DRINKS ---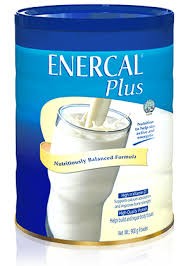 ENERCAL Plus

®
benefits particularly convalescing pre and post-surgical patients. These individuals have increased needs for important nutrients such as iron, calorie and protein to assist in timely recovery. Usually these patients feel weak, experience pain, and may even have limitation in their bodily movements that make them lose interest in eating. A daily supplementation of
ENERCAL Plus

®
can help convalescent patients meet specific nutritional needs because it supplies 100% of the U.S. RDA of all essential nutrients in 4 servings.
ENERCAL Plus

®
is also high in Vitamin C to helps recovery and immunity. Besides it contains high-quality protein to help build and repair body tissues.
ENERCAL Plus

®
is a versatile formula with added benefits making it the right choice for patients who are recovering from a critical illness, chronically ill, affected by thermal injuries, anorexic, malnourished, those who cannot chew because of dental disorders, those recovering from trauma or infection, those on restricted volume intake, convalescents, the elderly, and individuals with illnesses including coronary heart disease and cancer.Patients with chronic diseases such as diabetes or chronic renal disease will need to seek medical advice before starting any nutritional supplements.