GLUCERNA VANILA 850G
FOOD SUPPLEMENT --- MEAL REPLACEMENT ---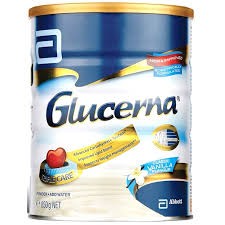 Glucerna Triple Care Powder is a milkshake-style drink formulated especially for the nutritional needs of people with diabetes or with impaired glucose tolerance.
Its enhanced slow-release carbohydrate system helps manage glucose response, and its fat blend that includes monounsaturated fatty acids (MUFA) and omega-3 fatty acids, supporting vascular health and circulation in people with type 2 diabetes2.
Glucerna Triple Care, when used as part of a diabetes management plan, can support weight management as it is fortified with chromium picolinate, a highly bioavailable form of chromium which supports carbohydrate metabolism2,3, 4.
Glucerna Triple Care is recommended as a calorie replacement for a meal, partial meal, or snack used in conjunction with a diabetes management plan4-6.
Glucerna Triple Care is a convenient, appropriate, and healthy alternative to skipped meals or unhealthy meals and snacks that have high caloric levels and low density of nutrients.

NUTRITION
0.95kcal/ml slow-release carbohydrate system with a healthy fat blend, powdered nutritional shake drink. It is designed to enhance glycaemic control (GI=41) while providing complete and balanced nutrition for patients with diabetes or abnormal glucose metabolism.
per 100mL
per serving (237mL)*
Protein (nitrogen)
g
4.29 (0.69)
10.17 (1.63)
Carbohydrate
g
9.05
21.45
of which sugars
g
2.4
5.69
of which polyols
g
2.42
5.73
of which saturates
g
0.37
0.88
Dietary fibre
g
0.90
2.13
of which FOS**
g
0.45
1.07
Vitamin A
mcg RE
70
165.9
Vitamin E
mg α TE
2.1
4.98
Thiamin (vitamin B1)
mg
0.17
0.40
Riboflavin (vitamin B2)
mg
0.20
0.47
Pantothenic acid
mg
3.7
0.81
Sodium
mg (mmol)
89 (3.87)
210.9 (9.17)
Potassium
mg (mmol)
156 (3.99)
369.7 (9.46)
Chloride
mg (mmol)
132 (3.72)
312.8 (8.82)
Osmolality
mOsm/kg H2O
592
Osmolarity
mOsm/litre
506
Water
mL/100mL (mL/serving)
85.6 (202.9)
Renal solute load
mOsm/litre
361
* prepared as directed (52.1g or 5 pressed scoops of powder reconstituted with 200mL of water)
** FOS = Fructo-oligosaccharides
Instructions for use:
To prepare a 237 ml serving, put 200 ml of cooled water into a glass. Gradually add 5 pressed scoops (enclosed) or 52.1g of Glucerna powder whilst stirring and mix until dissolved. A 850g can of powder yields approximately 16 x 237ml servings.
Presentation: 850g powder
Halal :Yes
Kosher: Yes
Flavours available: Vanilla
Country of manufacture: Zwolle, Netherlands