ORGANIC SOYMILK POWDER 700G
FOOD SUPPLEMENT --- NUTRITIONAL FOODS and DRINKS ---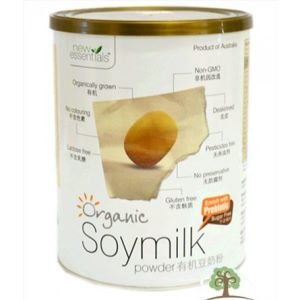 Suitable for Consumption by All Age Groups
Infants
:
Most suitable for infants with impaired digestive system and allergic to cow milk.
Children
:
Helps in enhancing memory and promoting healthy physical development of children.
Pregnant women
:
Provide sufficient nutrients for mother and foetus, such as calcium and protein.
Young and middle-aged people
:
It can help to reduce cholesterol and provide more beneficial nutrients.
Elderly
:
It can increase vitality and promote physical health.
It can help to:
• Boost immune system.
• Enhance physical strength.
• Lower blood pressure.
• Improve memory.
• Protect the heart (does not contain cholesterol).
• Help to increase probiotics in intestinal tract and aid in digestion.
• Strengthen bones.
• Regulate blood glucose.
• Promote metabolism.
• Relieve constipation.
• Lower pH of intestinal tract.
• Maintain balance of intestinal flora.
Enrich with Prebiotic-Oligosaccharide
Prebiotic are non-digestible food ingredient such as inulin, FOS (fructo oligosaccharide) that are able to stimulate the growth and activity of friendly bacteria in our digestive tract. Found naturally in human milk, certain cereals, fruits and vegetables, prebiotics are able to reach the large bowel without being digested, thus providing food for friendly bacteria that resides in our colon.
Extensive research has shown that including moderate amounts of prebiotics in our diet results in a significant increase (5 to 10 times) of the beneficial bifidobacteria in the intestinal tract. At the same time, the presence of unfriendly bacteria is significantly reduced.