DELIREAL ORGANIC BABY CEREAL 400G
BABY and TODDLER FOODS --- CEREAL ---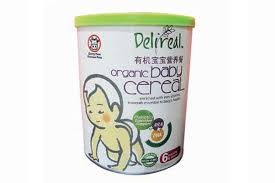 For babies 6 months or aboveEnriched with iron, vitamins, calcium, ARA, DHA, Prebiotics Digestion Support, minerals essential to baby's health. Organically grown whole grains for your baby's natural nutrition and no genetically engineered ingredients, salt, refined sugars, or preservatives. This is just one way PlantBio hopes to make a long-lasting positive impact on your baby's health.
For this, PlantBio has made an strong effort to research in this area, and successfully developed a 100% plant based nutritious organic baby cereal – Delireal.
Plant based DHA & ARA – promotes brain and eye development.

Plant based calcium – promotes bone structure development.

Plant based iron – promotes mental development.

Organically grown whole grains – naturally nutrient rich, unlike refine grain powder which only provides carbohydrate.
NO flavors, be it natural or synthetics
NO creamer
NO refine sugar
NO salt
NO presevatives.
Delireal also does not contain high allergy ingredients like dairy products, or gluten.
As we are always concerned about the importance of the intake of natural and organic foods, hence Delireal is strictly free from unnecessary additives.
Things you should know about Delireal:
1.) Delireal is formulated using organic millet powder, Organic Quinoa powder, Organic brown rice Powder, Organic Soy powder, Natural Sea weed Powder, Organic Molasses, FOS, Organic Flaxseed powder, Plant-base DHA and ARA, with a total organic ingredients of 98.3%
2.) Delireal carries a nice aroma originated from organic multi-grains powder with a very slight oily aroma from algae DHA & ARA.
3.) Delireal powder is light brown in color with a few tinydark brown particles. These particles are actually organic molasses which would dissolve fully once mixed with liquid.