BIO-LIFE EVENING PRIMROSE 1000MG
VITAMINS and SUPPLEMENTS --- MULTIVITAMINS ---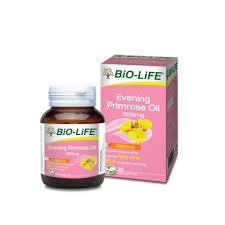 GLA is a polyunsaturated fatty acid from the omega-6 (n-6) series. It is involved in:
Modulation of membrane functions

Formation of short-lived local regulating molecules prostaglandin (PG) and leukotrienes

Control of water permeability of the skin

Regulation of cholesterol transport and cholesterol synthesis
Vitamin E (d-alpha tocopherol) acts as an antioxidant, mopping up free radicals created by exposure to oxygen and therefore prevents further oxidation and spoilage of the oil.
Each capsule contains

:

Evening Primrose Oil
equiv Gamma-Linolenic acid (GLA) 100mg

1000mg

Vitamin E

7.5 iu
Research found to help aid premenstrual syndrome (PMS), dry skin, hormonal imbalance.
Dosage:
Adult: Take One capsule three times daily with food for 12 weeks, then dosage can be reduced to one capsule twice daily

Children (6-12 yrs): One capsule daily with food

For patients with atopic eczema and dry skin, take one capsule twice daily with food for a maximum of 16 weeks
Contra-indications/Caution:
No signs of chronic toxicity or carcinogenicity have been found in laboratory testing. However, it may cause headaches in sensitive individuals especially those who has poor fat digestion or are prone to headaches due to alcohol consumption. Some people might experience minor rashes and pimples when they first start on THREE capsules of evening primrose oil daily but these tend to subside after 8-12 weeks of regular supplementation.
Most of BiO-LiFE range of fatty acid products is encapsulated in vegetable based soft gelatine. Soft gelatine capsules are prepared from gelatine, glycerine and water and can absorb several times their weight in water. Moisture is a very critical spoilage factor. Do not pour out capsules onto the palm, but use the cover of the bottle. When the capsules are attacked by moisture, they would become soft, leak and thus causes capsules to stick together.