KORDEL'S DICHROTIN 60'S
VITAMINS and SUPPLEMENTS --- DIABETIC SUPPORT ---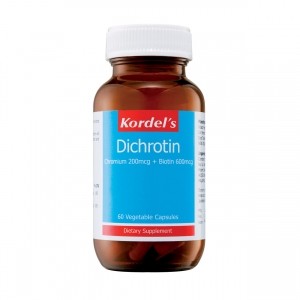 Kordel's Dichrotin is scientifically-formulated with two important nutrients, Chromium Picolinate 200mcg and Biotin 600mcg, in a vegetable capsule.
Scientific evidence indicates that these two nutrients work synergistically to produce positive effects on insulin function, blood glucose, lipid metabolism and cardiovascular disease. They are also deemed safe by the U.S. Food & Drug Administration (FDA) and are also Generally Recognized as Safe (GRAS) for use in foods and supplements.
Indications:
Adjunct Treatment for T2DM patients

May lower the risk of heart disease in diabetics
Benefits:
Chromium Picolinate (Cr Pic)
Chromium is an essential trace mineral required for carbohydrate and lipid metabolism. The body cannot make chromium; it must be obtained through the diet or by supplementation. Nutritional chromium is found in minute quantities in foods such as organ meats, oysters, mushrooms, broccoli, and brewer's yeast. Modern food processing and cooking methods compromise the levels of chromium in foods. A high consumption of sugar also reduces chromium reserves in the body. Aging is associated with a 25 to 40 percent drop in tissue chromium and may be implicated in type 2 diabetes mellitus (T2DM).

In the body, chromium is converted into its biologically active form called GTF (Glucose Tolerance Factor) which improves insulin function to enhance glucose uptake into cells and regulate blood sugar levels.

Biotin
Biotin, a water-soluble B vitamin, plays an essential role in carbohydrate and lipid metabolism. Biotin stimulates insulin secretion and hepatic glucose uptake, and suppresses glucose synthesis in the presence of high plasma glucose, as in the case of pre-diabetes and diabetes.