BIO-LIFE A.B. ADULT GOLD PRE&PRO
VITAMINS and SUPPLEMENTS --- MULTIVITAMINS ---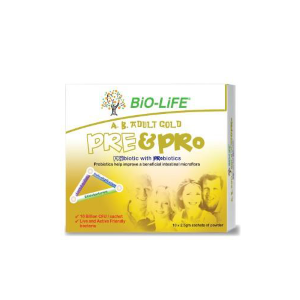 BiO-LiFE A.B. Adult Gold Pre & Pro is a food supplement containing both prebiotics and probiotics especially for senior citizens. It contains 4 clinically studied ingredients namely chicory inulin (prebiotic), oligofructose (prebiotic), Lactobacillus plantarum LP-01 (probiotic) and Bifidobacterium lactis BB-12 (probiotic). The combination of both prebiotic and probiotic, termed synbiotic carry many beneficial effects on the human body which includes the enhancement of immune system as well as vitamins and minerals absorption particularly calcium, boosting bone health.
The triple care formula (Lactobacillus plantarum LP-01, Bifidobacterium lactis BB-12, inulin-oligofructose) also contributes to the improvement in nutritional status and bowel movement.
Each sachet (2.4g) contains:

Lactobacillus plantarum LP01
providing 6 Billion CFU*

Lactobacillus plantarum LP01

60mg

Bifidobacterium lactis BB12
providing 4 Billion CFU* Bifidobacterium lactis BB12

133.33mg

Inulin-Oligofructose Powder
(derived from Chicory Powder)

2271mg

Providing

Inulin-Oligofructose

2089.32mg

No added yeast, wheat starch, gluten, preservatives, artificial colours and flavours

*CFU (colony forming unit)
- denotes the strength or concentration of number of bacteria present
Dosage:
Take 1 sachet daily, ½ hour before meal. Mix the contents of the sachet with any cold beverage or water. Do not exceed 5 sachets a day.
Contra-indications/Caution:

None known

Suitable for vegetarians
Prebiotics source from Belgium
Probiotics source from Denmark and Italy