BIOMEDIC UNECE U-LP200 PLUS
FOOD SUPPLEMENT --- NUTRITIONAL FOODS and DRINKS ---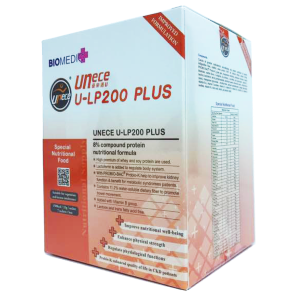 Protein needs for CKD (Stage 1 to Stage 4 Pre-Dialysis Patients) patients would be less than those having dialysis. Even though the impaired kidneys are able to function in the earlier stages of CKD, they still have hard time to remove all waste products from the body. Consuming more protein leads to overworked kidneys which can cause more damages. Therefore, eating less protein helps to preserve kidney function and prevent additional stress on the kidneys.
UNECE U-LP 200 PLUS is highly recommended for individuals who have a protein intake limitation. This therapeutic nutrition, includes patented probiotics and functional ingredients designed to provide a balanced nutritional support while adhering to their renal diets for people with Stage 1 to Stage 4 chronic kidney disease.
UNECE U-LP 200 PLUS is suitable for those who wish to protect the kidney and those would like to enhance the kidney functions.
Product Features
1) This product contains a low amount in protein (8% of total calories)
2) Contains MCT oil for rapid digestion and absorption.
3) Contains patented triple probiotics
4) Contains the essential amino acid –L-Arginine.
5) Contains a functional ingredient –Lactoferrin.
6) A rich source of vitamin B. B1 and B2 can promote energy metabolism; B6 can maintain neural system health; B12 is important for formation of blood cells.
7) Does not contain lactose .
8) Low in phosphorus, potassium and sodium
9) Readily dissolvable and easy to drink.
Who Should Take
-People who need to regulate protein intake, especially Stage 1 to Stage 4 pre-dialysis patients
-Gout and those who need a strict protein management
-Diabetic, hypertension, swelling, urinate often or proteinuria
-Eat more than 7 tablets of medicine per day
- Sole-source nutrition for oral or tube feeding.
Dosage
Mix 1 sachet of UNECE U-LP 200 PLUS in a 105ml of water and stir evenly. Consume within 2 hours. General recommendation of 2-3 sachets/day.