NOVA LIPIROS 60'S
VITAMINS and SUPPLEMENTS --- HEART and BLOOD PRESSURE ---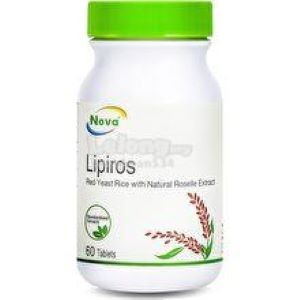 It is a combination of Red yeast rice and Roselle extract.

They work synergistically to manage cholesterol and maintain healthy blood vessels.

The Red yeast rice in this supplement is standardized to contain 1% Lovastatin, giving you the certainty of dose in every tablet.

This also allows you to accurately adjust the dose according to your needs.

It is also free from the kidney-toxin, citrinin, hence giving you an extra peace of mind every time you take it.

Red yeast rice has been used for centuries in China as both food and medicine.

It is made by fermenting a type of yeast called Monascus purpureus over red rice.

Standardization of red yeast rice has allowed it to be used in a more responsible manner because it contains chemicals that are similar to prescription statin medication which is used for cholesterol management.