LIVE-WELL MECOMIN
VITAMINS and SUPPLEMENTS --- MULTIVITAMINS ---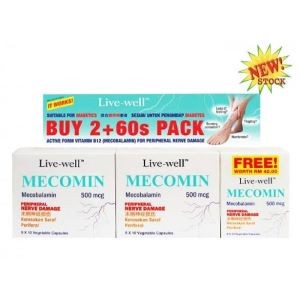 PROVEN TO WORK! The Trusted Oral Supplement for DIABETICS
to Help Regenerate Damaged Peripheral Nerves & Prevent Diabetic Nerve Damage
Live-well MECOMIN contains mecobalamin, the neurologically active form of vitamin B12 that protects against diabetic nerve damage and has the ability to rejuvenate damaged peripheral nerves in the body.

Live-well MECOMIN is orally active and thus need not be converted from the inactive form, cyanobalamin to its active form, mecobalamin.

Diabetics and pre-diabetics are advised to supplement with mecobalamin as they are most prone to diabetic nerve damage. Diabetics can develop nerve damage at any time, but the risk increases with age and duration of diabetes. Common signs of nerve damage include numbness, tingling, burning sensation, loss of feeling and nerve pain – in the hands, arms, feet and legs.

If nerve damage is left untreated for an extended period, diabetics face a higher risk of leg amputations.

Based on a recent nationwide *Consumer Satisfaction Survey, 96.2% of diabetics who consumed Live-well MECOMIN for at least 4 months experienced positive results and agreed that the product was proven beneficial in reducing their diabetic nerve damage condition. In fact, 95% of users agreed that Live-well MECOMIN is a trusted brand.

Taking Live-well MECOMIN, with clinically tested mecobalamin daily helps to treat diabetic nerve damage, protect against the degeneration process of the nervous system and regenerate new, healthy nerves.
Facts on Diabetes & Nerve Damage:
1 in 5 adult Malaysians is Diabetic!

Up to 70% of Diabetics have nerve damage which can lead to amputations.

The risk of a leg amputation is 27.7 times greater for a person with diabetes.

50% of all amputations occur in people with diabetes.
*96.2% Users rated Live-well MECOMIN to be beneficial for their diabetic nerve damage symptoms. Based on a Consumer Satisfaction Survey of 239 diabetics with nerve damage randomly sampled in Malaysia who have consumed Live-well MECOMIN for at least 4 months. All respondents in this survey did not consume any pain-killer/drugs for treatment of diabetic nerve damage.