SANTUNATUR POTATO SKIN CREAM
BEAUTY --- SKINCARE ---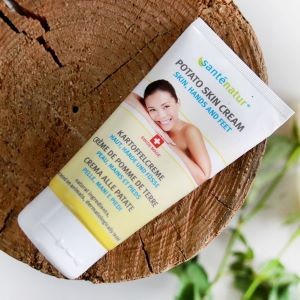 SANTENATUR POTATO SKIN CREAM - (skin, hands and feet)
Santénatur potato cream 'skin, hands, feet' from your specialist shop is a unique product for well-groomed hands and feet. The combination contains a large portion of organic potato juice (Switzerland) from fresh potatoes. The perfume consists of a mild blend of essential oils which have antibacterial, antiviral, anti-inflammatory and skin regenerating properties. The skin becomes soft, supple and cared for.
The balm does not grease, absorbs quickly and makes the skin wonderfully soft. For the prevention of calluses and to strengthen severely stressed skin. Particularly suitable for daily skin care - all day long. The essential oils inhibit viruses, bacteria and fungi. Therefore Santénatur, Potato Balsam is ideal in winter when everyone has a cold or when you are in contact with many people. The main ingredients are jojoba oil, almond oil and vegetable waxes/oils.
💦Antibacterial & Antiviral
The essential oils contained in Potato Balm have an antibacterial & antiviral property.
💦Apply on whole body
The Potato Balm can be used on nearly any body part due to its high skin toleration.
💦No tacky finish
The cream is absorbed fast and hydrates the skin immediately after use.
💦Skin care
The combination of potato juice (Organic/Switzerland) of fresh potatoes and diluted mineral (mineral salts) substances will give you a unique skin care effect.
💦Very well tolerated
It contains a natural base with organic potato juice and minerals and no fragrances
💦Repair effect
Repairs cracked skin, brittle skin with calluses, scaly skin, irritated skin, flaking skin, psoriasis treatment, acne scar treatment, dry eczema treatment and more.

ALL IN ONE CREAM :

✔Pregnancy Care-Bellyskin care during pregnancy & post birth
✔Anti-stretch mark
✔Acne scar treatment
✔Dark eye circle
✔Varicose veins (eg : hemorrhoids, spider veins)
✔All skin problems (psoriasis, finger cracks, feet crack etc)